Follow Creative Sustainability on social media:
Creative Sustainability Council is an interdisciplinary group of students, faculty and staff members who collaborate actively with members of the local community and other partners on student-led sustainability projects and grant proposals. Creative Sustainability Council is also a registered student organization on campus with opportunities for student leadership development  We invite anyone interested to get involved with us. Meetings are typically 2pm on the third Friday of the month.   No experience needed.  
Campus Sustainability Initiatives:
Glass crushing:  To schedule an appointment with our Sustainability Liaison to come in and recycle your glass into sand, fill out this Glass Crushing Appointment Form.
You are welcome to take your sand and use it at home, if desired. Beverage bottles, pasta sauce or oil bottles are all fine. Labels do not have to removed, but please remove metal lids and rings. Sticky bottles, light bulbs and large glass items can NOT be accepted.
Composting:  Aladdin and Facilities employees are collaborating to recycle our dining hall food waste into compost for the campus, in the new Sustainability Pavilion behind the Falcon Center.
Sustainability Liaison:  A workstudy position for students interested in helping with sustainability initiatives on campus.
Mindfulness Meditation sessions flyer here
Electric vehicle chargers (J1772 type destination chargers) are now available for use by the campus community.  Two parking spaces, designated with green paint, are available above the solar panels and just outside the elevator tower to the library.
Earth Day 2021:  Creative Sustainability Council is helping to lead a statewide Wild and Wonderful Earth collaboration in celebration of Earth Day, Every Day.
Solar Panels: Fairmont State has an array of 32 solar panels next to the library, which help to offset the energy usage of our sustainability initiatives as well as some of the library energy usage.  The panels, whose output is public and can be used by teachers and students across the state, were funded by the College of Science and Technolongy and by grants from Dominion Energy, and the WV Department of Education's Earth and Space Science Passport grant.
Creative Sustainability Proposals:  We encourage students, staff and faculty to submit proposals for funding an on-campus or local sustainability project. We will consider any ideas, large or small.  Please fill out the pre-proposal form to share your idea.
Fairmont State University receives grant for Campus Sustainability Projects
Fairmont State University's Creative Sustainability Council has been awarded a grant of $27,120 from the Appalachian Stewardship Foundation to implement two sustainability initiatives - food composting and glass crushing - on campus during 2020-2021. These initiatives have been designed in partnership with Aladdin Food Service and the Fairmont State Foundation.
West Virginia Virtual Earth Day Celebration - April, 22, 2020 - 50th Anniversary of Earth Day
Creative Sustainability Council partnered with Charley Hively, Fairmont State Library, and many others across West Virginia, to host a 2020 Virtual Earth Day celebration with links to organizations and activities from all over the state, including those organized by the Council.
The resource collection remains available and most events were recorded.  Please visit the site!
FSU Now Story on Virtual Earth Day 
Fairmont State University's Creative Sustainability Council invites students, faculty and staff to propose sustainability initiatives for the campus and/or local community that integrate creativity, evidence-based science, and strong design principles.  The Council will support proposal development and preparation, evaluate proposals, and recommend support for promising projects, with funding made available through the Suarez Professorship Award (via the Fairmont State Foundation). 
Inspired by the "hedonistic sustainability" work of Danish architect Bjarke Ingels, the Council seeks proposals for fun, imaginative, and community-enhancing sustainability projects, so that people will actively want to engage in and promote sustainability practices. We are particularly interested in projects with an interdisciplinary approach that encourage people to use their unique talents and ingenuity to enhance our campus and local community, and make the world enjoyably livable now and for future generations.
Creative Sustainability Council members visiting Marshall University Sustainability Department, hosted by Amy Parsons-White.
---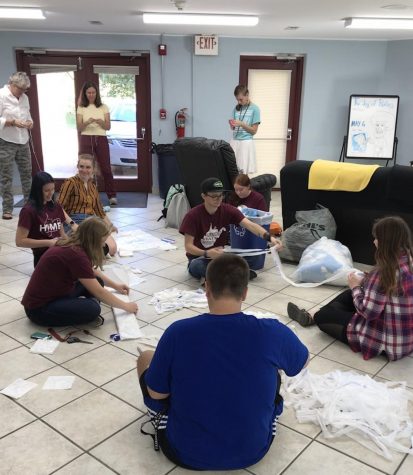 Columns Article about Plastic Bags into Sleeping Mats initiative
Proposal Process
The council would be delighted to work with you on developing an idea to fruition. Please submit an idea to our Google form here (it also contains some more information).
This brief pre-proposal indicates your interest in proposing a creative sustainability project for funding by the Creative Sustainability Council (which is supported through the Abelina Suarez Professorship).  A member of the Council will contact you to discuss your proposal. Proposals are accepted on a rolling basis.
Preference will be given to:
•    Projects that need seed money to become financially self-sustaining or even revenue-generating, to help perpetuate the Council's work after the award period.
•    Projects for which some form of cost-sharing (e.g. in-kind labor, kickstarter fund-raising) is provided.
•    Projects involving interdisciplinary teams.
•    Fun, engaging projects that truly embody the idea of creative sustainability.
•    Projects that include a strong communications/visibility plan.
Some sample ideas to get your creative juices flowing:
•    Wildflower garden and terracing around solar panels
•    Compile data about campus energy use and waste management practices to identify areas for improvement
•    Solar powered lights for dark areas of campus
•    Crayola ColorCycle for marker recycling
•    Straw bale house demo